Vacation in Portugal – Holiday villa with 2 bedrooms in the Alentejo with pool. Maximum occupancy 4 persons.
Prices from 119 euros per night for 2 people.
Monte Horizonte is a unique place where space, peace and respect for nature and for each other are central. Unfortunately, children under the age of 12 are no longer welcome from 1 January 2019 to continue to guarantee this feeling.
This detached 2 bedroom holiday villa is on the south-eastern part of our property and has about 2000 m2 of private gardens and woodland. The vacation villa has a living room, two bedrooms, a kitchen with appliances, such as a cooker and refrigerator. The bathroom has a toilet, washbasin, bidet and shower.
There is a t.v. with satellite, which div. foreign stations receives. Furthermore, in the living room a dining table with chairs and a coffee table. In the living room there is a wood stove for possible heating in the winter months. For the colder months of November to March we charge 35 euros per week for the wood for the wood stove. If there is a need for wood heating in another period, the costs are 5 euros per day.
In 1 bedroom is a double bed and in the other bedroom 2 single beds with linen. Bed linen is changed once a week, towels twice a week.
For a small fee breakfast can be delivered to your door every morning.
The holiday villa has a portfolio available, containing various brochures for local attractions, the Alentejo and Portugal.
Electricity is provided by solar and wind energy.
Your booking includes:
• Clean linen once a week.
• Clean towels and kitchen linen twice a week.
• Beach and swimming pool towels (1,4 x 1,9 meters)
• Unlimited coffee and tea
• Toilet paper
• Soap and shampoo
• Olive oil and vinegar
• Salt and pepper
Our prices per season can be found by moving your mouse over the dates in the availability calendar. You will then see the prices per day.
Our availability is always up to date and you can see it below. If you want to make a reservation click on the date that your holiday starts in the calendar below. You can also make a reservation by email or phone.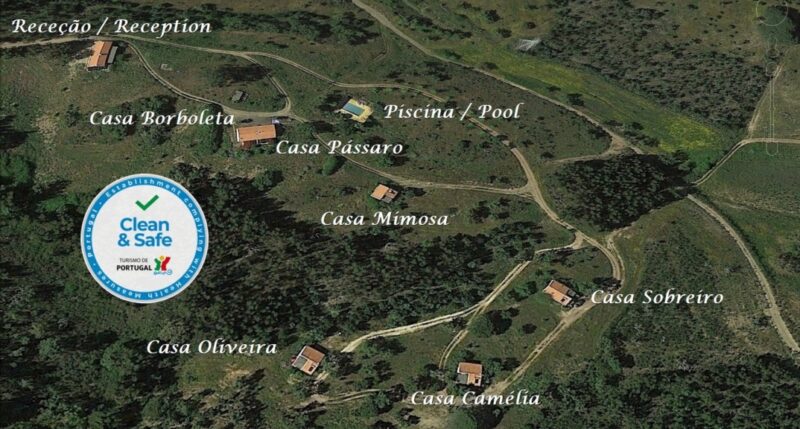 Holiday in Portugal, vacation in the Alentejo.