Travel information about Porto Covo, an idyllic location on the Alentejo coast in Portugal for a holiday.
Porto Covo is one of the two civil parishes in the municipality of Sines.
It is located in the western coast of Portugal, about 170 km from Lisbon and is well known for its beaches. The name "Porto Covo" probably means Port of the covos, where a covo is a kind of fishing nest for capturing lobsters and crabs. Porto Covo is located at the coast, about 13 km south of the port of Sines and 170 km from Lisbon.
In the last two decades Porto Covo has become a popular destination for tourism and vacancies due to its excellent beaches (many of them being only small coves between rocks), natural beauty and gastronomy. During the summer the population almost decuples with people coming from all over the country to their vacancy houses, rented apartments and campings.
Pessegueiro Island, with its fort, geographically departs from the territory of the freguesia of Porto Covo. The main square of Porto Covo is Praça Marquês de Pombal, built by the Baron of Porto Covo at the end of the eighteenth century. In the beginning of the eighteenth century Porto Covo was a very small littoral village which lived from fishing and trading. However its little port was much affected by the climacteric conditions and, with bad weather, it was not safe to enter or leave.
Near the end of the century a rich bourgeois from the capital, Fernandes Bandeira, became interested in the place and promoted its agricultural and fishing activities, as well as the renovation of the village.
His effort was recognized by the court and he was made the Baron of Porto Covo, in 1804. Near the village there are two fortresses from the end of the sixteenth century, the time of King Filipe I of Portugal (Filipe II of Spain): one in the Island of Pessegueiro, which is now in ruins, and the other in the coast, just in front of it. These were built to contribute to the defense and surveillance of the area, which was supposed to become an important maritime port.
The parish of Porto Covo was officially created on December 31, 1984.
Pessegueiro Island is a part of the parish. Up to that time, it was the only one of the districts with the same name.
A song of Rui Veloso took the name of these parishes, and made it known among the Portuguese.
Map of the location of Porto Côvo, Monte Horizonte, Sines and Santiago do Cacém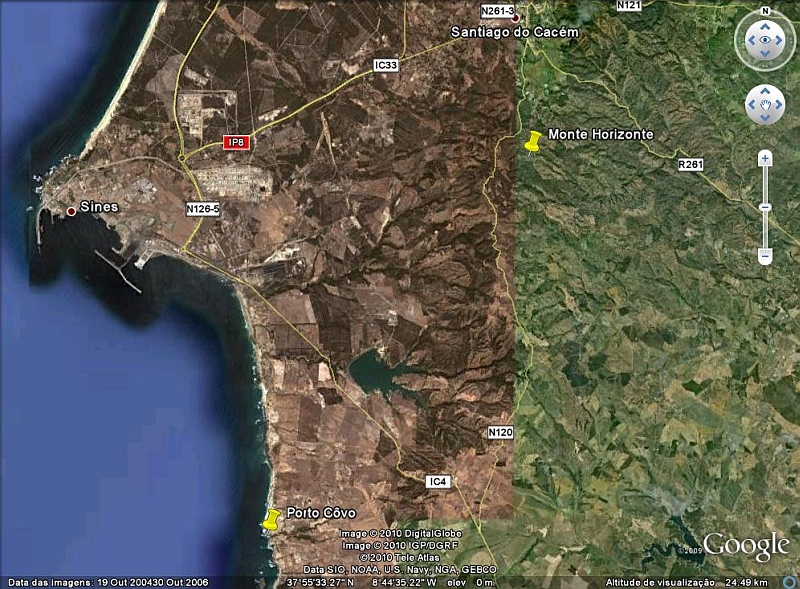 Vacation in Portugal, holiday in the Alentejo.